Izgleda da moj mirovnjački duh, pojedinim devijantnim ličnostima smeta, te sam bio u toku jutra napadnut od grupe "hakera" sa albanskog govornog područja, velikih branilaca Kosova, onog priznatog o kome sam pisao.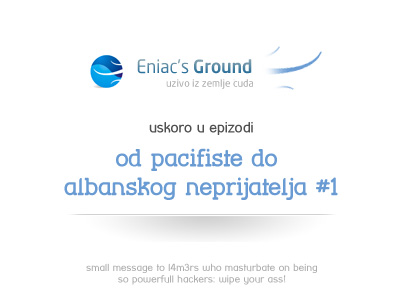 Pored očigledne gorčine što je nešto u šta ulažete dobar deo svog slobodnog vremena napadnuto, raduje me broj ljudi koji se javio i podržao me u celoj priči. "Muštuluk" je uzeo Goran u pola 6 ujutru, da bih drugu poruku dobio već u 7 od Nenada, koji je kasnije javio Milošu, na Twitteru se pridružio Urke a tu se pridružila nešto kasnije i Dragana. Sve ovo čini da gore-spomenuti trud ne izgleda zalud bačen i motiviše da nastavim dalje da pišem, svestan da postoji gomila ljudi lojalnih ovom sajtu.
Hvala vam na tome, a što se osvete tiče, to err is human, to forgive is divine! Toliko od mene!